STATEMENT ON THE PASSING OF ERICA TISHMAN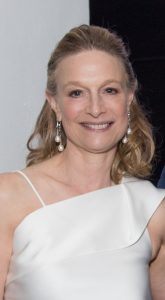 It is with great sadness that we write about the passing of Erica Tishman, an invaluable force and irreplaceable ally to our organization. Erica served on the EA board for more than a decade, three years of which she spent as our Board Chair, the first woman to do so in our 130 year history. Under her leadership and support, EA flourished. She oversaw some of our milestone projects: the rebuilding of the Manny Cantor Center, the opening of our Center for Recovery and Wellness, and, most recently, our work on the 14th Street Y.
But Erica not only gave over her time, resources, and professional talent to EA, she was deeply connected to our community and staff, judging our Youth of the Year contest, giving out annual Peer Awards for staff members, and regularly visiting our campuses and programs. Despite rotating off of our board earlier this year, Erica continued to be deeply engaged in our community – just two weeks ago, Erica – along with the Central Synagogue community – volunteered at their annual Thanksgiving dinner for families at P.S. 188.
There is one word that encapsulates Erica: indefatigable. To every opportunity, meeting, or event, she always brought her full self. Her presence will always be felt in every corner of our organization.
In the coming days, we will announce more formal ways in which we will honor Erica's life. In the meantime, we send our sincere condolences to her husband, her family, and to all of her friends who are shocked by this tragic loss.
May her memory be a blessing.