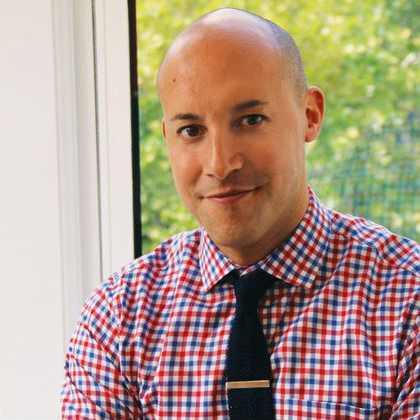 Alan van Capelle
President and CEO
Alan van Capelle is a nationally recognized leader in the field of civil rights and social justice. As CEO of Educational Alliance, he leads a network of community centers offering social, educational, cultural and recreational services, programs, and events to the diverse population of downtown Manhattan.
Selected by the Jewish Daily Forward as one of the "Forward 50," Mr. van Capelle catapulted Bend the Arc into the forefront of the national progressive landscape as CEO and represented the American Jewish community in his speech at the 50th Anniversary of the March on Washington. Also chosen by the New York Observer as one of New York's top "power gays," Mr. van Capelle won major victories for LGBT rights as Executive Director of the Empire State Pride Agenda.  In forming partnerships with labor unions and faith communities, he paved the way for marriage equality in New York, while more than tripling Pride Agenda's budget.
Mr. van Capelle began his career as an organizer and contract negotiator in the labor movement, eventually running the day-to-day political operations of the Service Employees International Union (SEIU) Local 32BJ, the largest and most powerful building service union in the country. He served as Deputy Comptroller for the City of New York, where he advised the agency on all matters involving public policy, media, and community relations.  He has also served as a member of the New York City Banking Commission.
Mr. van Capelle has been named to the National Leadership Council's "40 under 40" list, and has been quoted by The New York Times, CNN, New York 1, Newsweek and New York Magazine.  Mr. van Capelle has served on the transition committees for Governor Eliot Spitzer and Attorney General Andrew Cuomo.  He was also selected as an elector of the 2008 New York Electoral College.
A lover of all things New York, Mr. van Capelle serves on the Board for the Association of a Better New York (ABNY) and the Association for a Better New York Foundation and recently served as a member of the transition team for New York Attorney General-Elect Letitia James. In 2016, he was appointed by Mayor Bill de Blasio to the Children's Cabinet Advisory Committee. Mr. van Capelle is also a former member of Manhattan's Community Board 3.
Mr. van Capelle earned his MPA from the Robert F. Wagner School of Public Service at New York University, where he currently serves as an Adjunct Professor and teaches on organizational culture. He holds Bachelor of Science degree from the City University of New York.
Mr. van Capelle lives with his husband, Matthew Morningstar, on the Lower East Side where they are raising their two children, Ethan and Patrick.